HL + Einleitung
Apprenticeships at Wempe:
award-winning excellence to match your prospects.
We are proud to carry the title 'BEST PLACE TO LEARN TOP TRAINER 2015–18' – just as proud as we are of the 68 apprentices currently at Wempe. Supporting and challenging young talents is one of our greatest strengths – one that we are continually perfecting with innovative training concepts, excellent development opportunities and by working together with you. Looking beyond the horizon is as important a part of your apprenticeship as the Wempe start-up package, which includes all the relevant information on every area and year of your apprenticeship.
Sales advisor: passionately committed to helping customers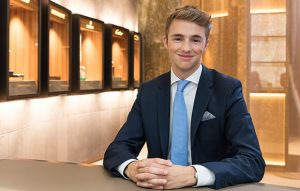 At Wempe, even as a prospective sales advisor you can show your own individual personality and take on diverse tasks. Because we are sure that you are an open person who also likes to communicate in foreign languages, self-confident and committed, with a great passion for service and sales and a weakness for the beautiful and valuable things in life. And the only things more creative than the wishes of our international customers are your ideas for how to fulfil them.
Watchmaker at Wempe: start your career with precision
Do you quickly take things apart in order to better understand them – and then put them together again with patience and great concentration? Is it your pronounced inclination towards technology and your fascination with precision and mechanical details that drives you to do this? If so, you can develop these talents to ultimate perfection at Wempe. Glashütte in Saxony is not only home to the best hopes for the future of German watchmaking, but also to the manufacture of our own watch collections and repair workshops for the biggest and best international watch brands.