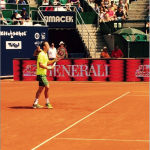 Among the most pleasant compulsory tasks for Wempe branch managers are the so-called social responsibilities. In early August, the time had come again: Philipp
Kohlschreiber, brand ambassador and Wempe fan of the Munich Weinstrasse branch, who I have been attending to for two years, was playing in an ATP tournament in Kitzbühel. Of course, I had to be there for moral support. With the essential Wempe design shirts in our luggage, my family and I left Munich for the Alps. The Kitzbühel Alps are said to offer countless possibilities for excursions to specific locations and the surrounding area, especially for families, and children in particular. So it was a shame that they slumped down exhausted into their seats after the weekend.
As a rule, Philipp is accompanied by three-time high jump world-record-breaker Carlo Thränhardt as his fitness coach and his manager Stephan Fehske.
And what can I say? Philipp Kohlschreiber celebrated victory as favourite against the Frenchman Paul-Henri Mathieu in the final of the Generali Open 2015. That made him the first German winner there since 1966 and the first with Kitzbühel as his primary place of residence. But not only that, he also finally became the first top German player to win a clay tournament! It is his sixth tournament win overall. What's more, before the tournament started, Philipp Kohlschreiber was not feeling in good form at all.
Alongside the tournament, Philipp took part in a photo shoot for our Wempe magazine. You can read more about it in our publications soon. See you soon!
Marc