HL+Einleitung
In a class of its own:
the Wempe academy
Wempe started with a small watch business in northern Germany and is now the largest family company in the industry and the most important retail and innovation partner of the worldwide-leading brands. We are committed to passing on to you the tradition of always wanting to improve: with our Wempe academy.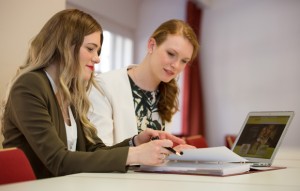 Acquire internationally recognised qualifications and continually increase your knowledge and specialist skills: whether it is in expertise, purchasing, customer retention, management or your own personal strengths. An advanced e-learning programme is accompanied by our own qualification modules and circles of competence, internal seminars and learning modules. Your prospects and opportunities are further extended by visits to trade fairs and conferences, training sessions and internships at major brands and stays abroad. In regular feedback discussions, we work on your strengths and interests, record your learning achievements and define your new goals.
We also offer high-potential candidates long-term programmes, coaching sessions and workshops in management and leadership techniques – and even personal trainers for your individual path to growth at Wempe.