With Wempe, you move with the times: keep up!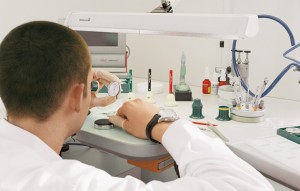 Wempe is always geared towards the possible rather than just the necessary. With this in mind,
we offer each of our employees the best options – all you have to do is use them!
You work with the best in the craft of watchmaking on a daily basis – make the most of the opportunity to learn from them and benefit from the expertise and wide variety offered by the Wempe academy. And continue your education independently, too – time never stops. We have flat hierarchies and are open to new things. No one will tell you there's no room for improvement – take the opportunity and get involved in ideas, development and design! One of our strengths is respectful, open communication – approach others, show interest and you can offer each other mutual assistance. Wempe has now been working on becoming bigger and better for 135 years – use your time with us to improve yourself, too. We will support your endeavours on both a professional and personal level.