Individual success, step by step: the WEMPE career ladder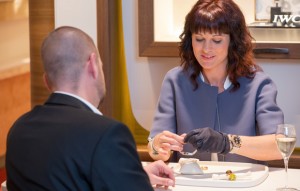 You can rely on us to always provide individual support to your efforts to become better and better and keep progressing: with diverse educational and coaching offers at the Wempe academy personalised to suit your strengths – and an environment that allows room for individual demands and prospects with familial values like trust and respect. That is what we refer to as the Wempe career ladder.
From your first day, you benefit from Wempe-internal qualification modules, innovative learning opportunities and professional training sessions. You can acquire internationally recognised documentation of expertise and specialist titles and accelerate your development with Wempe in major cities. With committed further education and professional specialisations, you can qualify as a sales professional, brand ambassador, head of the watches/jewellery department or jewel expert, for example, and, as a high-potential candidate, reach the Wempe management level via numerous workshops and coaching sessions.