The best career prospects:
on an equal footing
You can quickly earn recognition at Wempe – and you will receive respect from the word go. Because we treat everyone on an equal footing, whether they are a customer or an employee: with openness, interest and appreciation. Flat hierarchies and great mobility await you. You will be quickly accepted and your performance recognised. At Wempe, you are never just another employee, but rather always a valuable member of one big team.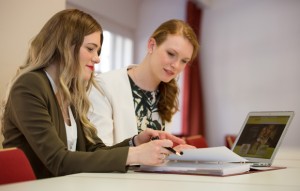 Our greatest strength is our togetherness: here at Wempe, we support you at all times and on all levels. We demand and encourage consideration, conversation and contribution!
Because the different individuals within the team and the associated diversity are the very things that we are all committed to and that form an established and essential element of the Wempe corporate culture. Only in this way can the full potential from the various talents, experiences and areas of expertise be realised – and make a decisive contribution to the success of the company.